City Library in Cheb, Restoration of Facade and
roof

, Czech Republic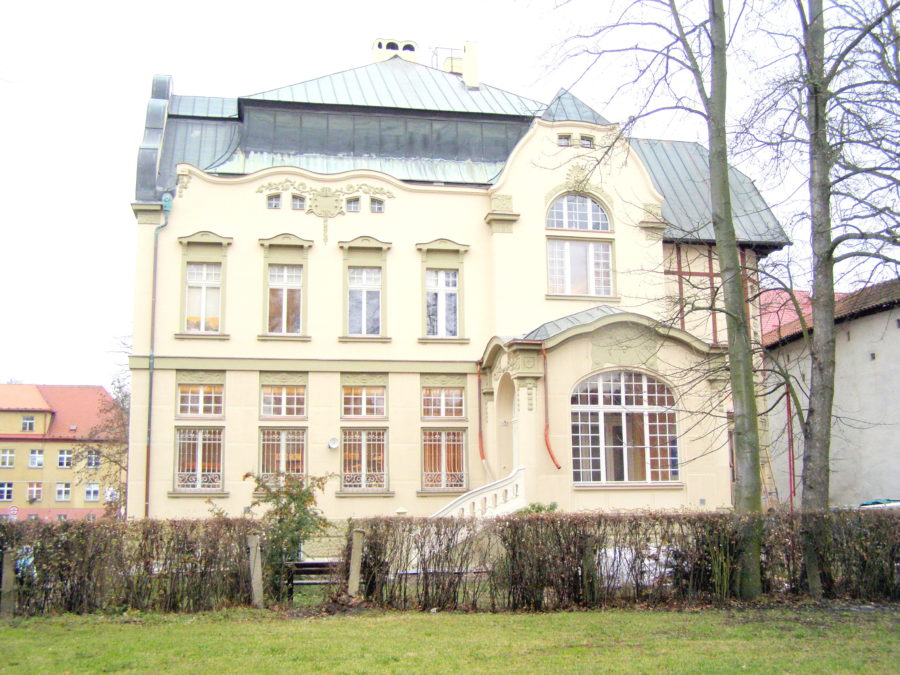 | | |
| --- | --- |
| Address: | Obrněné brigády 615/1, 350 01, Cheb |
| Description of Work: | Relief elements of facade |
| Investor: | |
| Contractor: | GEMA ART GROUP a.s. |
| Implementation: | 09/2013-11/2013 |
The library building was built in the Art Nouveau style between 1909 and 1910 based on the legacy of Daniel Kreuzinger, important factory owner from the Cheb. Architectural studio Loos in Teplice made a design and the Cheb construction company of Franz Kraus implemented the construction works. Inauguration of this building took place on February 12, 1910. The new library included at that time a home-reading department, a reading room and a large hall for 300 people for various city society events.
GEMA ART GROUP has implemented this works for the Municipality of Cheb as a part of the project of the General Renovation of the City Library Facades and Roofs. The GEMA ART GROUP's subject of the works was the restoration and renewal of stucco relief elements. A disrepair of the exterior decoration of this historical house, built in the early 20th century in the Art Nouveau style, required a professional intervention. In addition to damage relief decoration due to degradation over the years, or improper intervention of the older facade repairs, the loss of some elements of relief decoration occurred in some places. GEMA ART GROUP a.s. has restored a large figural relief with twelve figures, bordered by a rich Art Nouveau decor. This embossment is created in a sculptural perspective abbreviation, and Daniel Kreuzinger, donor of the library, is probably its central figure. GEMA ART GROUP restored decorative plant reliefs, of which it was necessary to remove various colors and plaster deposits, which sometimes completely obscured relief decoration plasticity. On the northeast facade was necessary to reconstruct an unpreserved decorative relief completely.
Preliminary to the implementation of the work, GEMA ART GROUP carried out for the Municipality of Cheb a scientific research and restoration project proposal for further realization.