Restoration of two altars in the Virgin Mary's Immaculate Conception and St. Ignatius Jesuit Church, Klatovy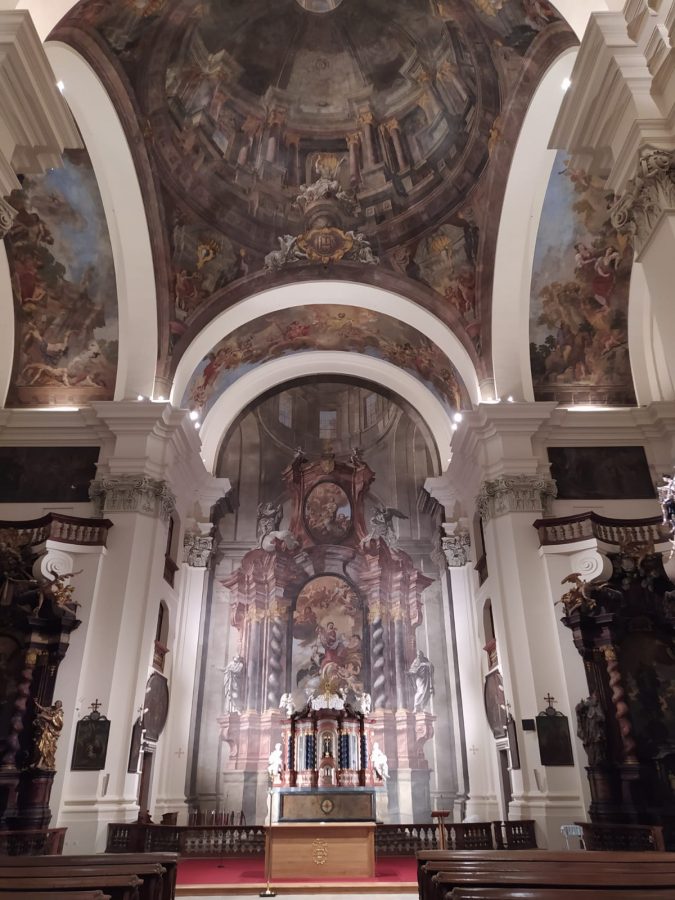 | | |
| --- | --- |
| Address: | nám. Míru, Klatovy |
| Description works: | Restaurátorské práce |
| Investor: | Římskokatolická farnost Klatovy |
| Contractor: | GEMA ART GROUP a.s. |
| Implementation: | 10/2019–12/2020 |
The Virgin Mary's Immaculate Conception and St. Ignatius Jesuit Church belongs to the significant dominants of the city of Klatovy. Its construction is related to the work of the Jesuit order and the re-Catholicization of Bohemia after the Battle of White Mountain in 1620.
In 1656, the foundation stone of the church was laid. The original author was the architect Carlo Lurago. Due to problems with statics, a contract was concluded with the Italian builder Giovanni Domenik Orsi in 1666. Orsi also participated in the construction of a Jesuit professional house in Malá Strana in Prague or in the construction of the church of St. Nicholas in Prague.
It was only after a large fire in Klatovy in 1689, during which the church burned down, that the church was renovated and painted with rich Baroque stucco. The main altar is the work of Jan Siebel. From 1773 the church was taken over by the town of Klatovy and in 1958 the Jesuit church was entered on the national list of cultural monuments of the Czech Republic.
GEMA ART GROUP a.s. completed the restoration works of the main altar of the Virgin Mary and the restoration altar of St. František Xaverský. Repairs included the restoration of altar architectures, carvings and decorative elements, sculptural decorations and altar paintings.
The church ws designed in the center of the protected environment of the Municipal Monument Zone of Klatovy. The former Jesuit church was built in the years 1656-1679 by Domenico Orsi in collaboration with Carl Lurag. The building underwent many modifications in the past, especially after the fire. It was first partially burned down in 1689 and was newly rebuilt until 1717.
An integral part of the Church of the Immaculate Conception of the Virgin Mary and St. Ignatius consists of the restored main altar, which is prepared for a valuable monumental work, consisting of murals and altar architectures and sculptural decorations. The main altar forms the interior of the church and significantly completes its appearance.