Dubenec – Centre for Environmental Technology Research and Development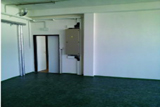 | | |
| --- | --- |
| Address: | Závod Dubenec, P. O. Box 65, Milín, 262 31 |
| Description of work: | Installation of electrical fittings |
| Investor: | WASTECH a.s. |
| Contractor: | GEMA ART GROUP a.s. |
| Implementation: | 01/2013 – 04/2014 |
Gema Art Group a.s. played a major role in the construction of a centre devoted to research and development of environmental technologies based in Dubenec in the Příbram region.
The project was commissioned by WASTECH a.s., a company focusing on elimination of environmental burdens, restoration of rivers and risk waste management.
The contract included various types of construction work, installation of electrical fittings, gas pipes and sewerage, heating, air-conditioning and also the technical, technological and laboratory equipment of the centres.
Work commenced in January was duly completed as of 30 April 2014.