House of the
rabbi

and

synagogue

, Úštěk near Litoměřice, Czech Republic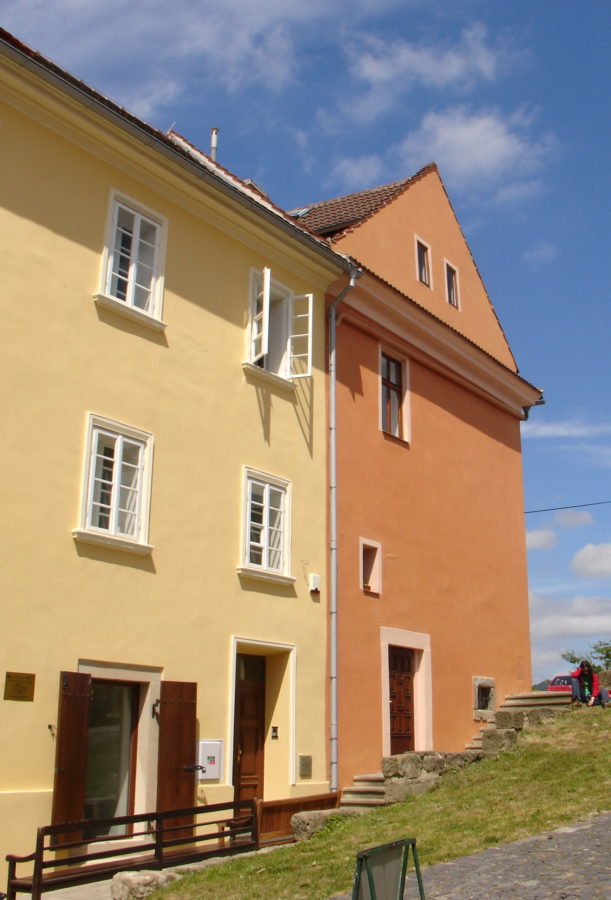 Address:

Synagoga

, 1. máje 96, 411 45 Úštěk
Description of work:
Restoration work
Investor:
10 stars – Revitalization of Jewish monuments in the Czech Republic
Contractor:
GEMA ART GROUP a.s.
Implementation:
2011 -2014
OPENING OF RABBI HOUSE AND SYNAGOGUE – 23. 6. 2014:
The town of Úštěk in the Litoměřice District of Central Bohemia has a long history of Jewish settlement reaching back to 1327. The Jewish community expanded during the 16th century and a wooden synagogue was built to serve its needs.
The town and the synagogue were destroyed in the 18th century by a extensive fire; in 1774 the town council issued a permit to built a new, stone synagogue. It was erected on a rocky promontory and the setting gave its architecture an additional impact. The building was given Neo-Renaissance features during the extensive rebuilding carried out in the mid 1850s according to a design by the architect Wenzel Jahn. At the same time the house of the rabbi was built in the immediate vicinity of the synagogue. The house has a trapezoidal ground plan and its foundations date back to medieval times. The building remained disused after World War II and fell into disrepair. It was returned to the ownership of the Jewish Community Council in the 1990s and between 2001 and 2003 extensive restoration and building work both on the exterior and interior was undertaken.
Because of its historic importance and due to persistent rising damp problems the synagogue and the house of the rabbi were included in the "Revitalization of Jewish Monuments" project. GEMA ART GROUP a.s. won the tender for this prestigious contract, which has significant EU funding, in 2011.
The premises of the house of the rabbi were completely reconstructed, with the exception of the roof, which was repaired in 2006. The house was used for historic exhibitions and had accommodation for lecturers and tourist guides. New facilities for visitors were installed on the ground level. Various trades, such as excavators, carpenters, stonemasons, joiners and plumbers were involved in the task. All demolition work were done with utmost care to prevent damage to the old structures and surfaces. Stratigraphy and in-depth probes used during the restoration survey revealed the original colour schemes, which the restorers were recreate. The building was dehumidified as the rising damp with high salt content poses serious problems for the structure of the house.
In the case of the renovated synagogue, GEMA ART GROUP a.s. was carry out an inspection of the building and also some exterior repairs, which were not included in the previous renovation. Damp-proofing of the walls, removal of the dampness damaged plastering and its replacement by new lime restoration plaster were all essential tasks carried out during the renovation.
Once all the work is completed in 2014 a permanent exhibition "The Jewish School System", documenting the history of Jewish education from medieval times until the present time was be installed in the premises. Both the house of the rabbi and the synagogue were also be used as a venue for lectures, concerts and other local cultural and social events.