Jewish School and
Synagogue

, Jičín, Czech Republic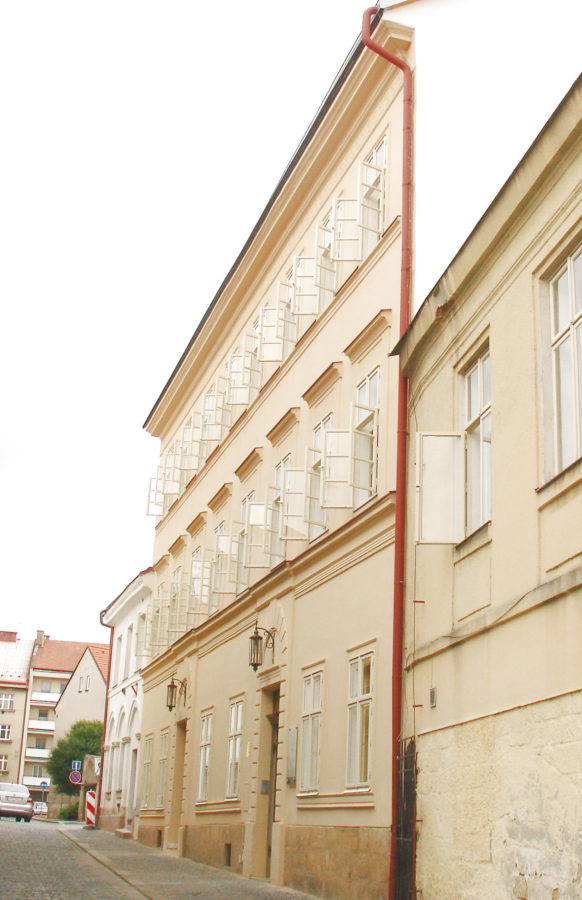 Address:
Židovská škola a

synagoga

, Židovská ul., 506 01, Jičín
Description of work:
Restoration work
Investor:
10 stars – Revitalization of Jewish monuments in the Czech Republic
Contractor:
GEMA ART GROUP a.s.
Implementation:
2011-2014
Jewish Synagogue in Jičín :
The Jewish Synagogue is located in the town centre near Valdštejnské (Wallenstein) square and belongs amongst important Neoclassical monuments of the of East-Bohemia Region. It was built in the years between 1781 and 1784 and re-modelled in the Empire style after the fire in 1840.
The interior is interesting for its aron ha-kodesh (a receptacle for the Torah), which was converted from the original 1700 altar of the Church of St Ignatius in Jičín. The synagogue served its purpose until the establishment of the Protectorate of Bohemia and Moravia in March 1939. After World War II the synagogue was used for many years for storage of dried herbs and plants. The property, by then in a state of decay, was returned to the Jewish Community Council in 2001 and a year later a seven year long reconstruction began. The synagogue is used as a venue for exhibitions and concerts and an exhibition about local Jewish history has been installed within the women's gallery.
Despite the recent reconstruction rising damp problems have occurred and caused damage to the walls. The synagogue requires further repairs and for this reason it had been included in the "Revitalization of Jewish Monuments" project, which is largely EU funded. The work is managed by GEMA ART GROUP a. s. and involves dehumidifying of both the interior and exterior, repair of the crack in the south façade of the synagogue and review of the plumbing. The women's gallery needs surface repairs to its wooden floor. The project "Revitalization of Jewish Monuments" will run from 2011 till 2018 and the Jičín Synagogue will after the reconstruction again be used for cultural and educational purposes.
Jewish School in Jičín:
The Jewish school was founded in 1870 but the building, where it is housed, had been built in 1840 according to a design by the architect Josef Oppolzer.
Its most interesting architectural feature is the spiral staircase connecting its storeys. The school is included in the republic-wide "Revitalization of Jewish Monuments" project, of which GEMA ART GROUP a. s. is the contractor for reconstruction work.
The former Jewish School will be used after its reconstruction as an exhibition and education centre. It will have a small café, new toilets and accommodation in rooms in the attic. On the first floor will be installed an exhibition about the history of the Jewish population in the town of Jičín and its surroundings. As well the main entrance the building will have access for the disabled, converted from one of the windows. Carpentry, joinery and roofing work will be carried out and the building will be rewired.
GRAND OPENING OF THE SYNAGOGUE – 17. 6. 2014: