Jewish
Synagogue

, Březnice near Příbram, Czech Republic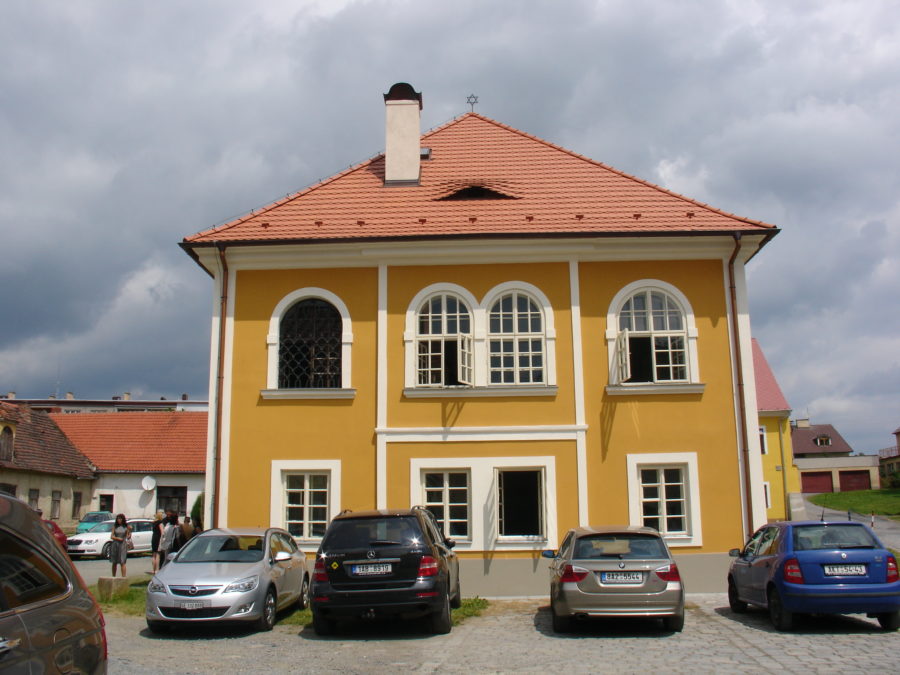 Address:
Židovská

synagoga

, č.p. 664, 262 72 Březnice u Příbrami
Description of work:
Restoration work
Investor:
10 stars – Revitalization of Jewish monuments in the Czech Republic
Contractor:
GEMA ART GROUP a. s.
Implementation:
2011-2014
One of the properties included in the project "Revitalization of Jewish Monuments", which conducted in 10 different locations all over the Czech Republic, was the synagogue in the town of Březnice in Central Bohemian Příbram District. The synagogue is located in the town square, which used to be the centre of a Jewish ghetto called Lokšany, founded in the 16th century.
The synagogue was constructed in 1725 and in 1821 was significantly rebuilt in the Neoclassical style. After World War II the premises were used as a warehouse for a local building firm. The synagogue is one of town's most important monuments and extensive repairs had already been carried out in 1997. Due to a lack of damp-proofing the foundation walls were affected by rising damp, which caused mould damage in the whole building. Some instability was also detected and for this reason the synagogue was closed to the public.
Work to returning the monument to its original state were managed by GEMA ART GROUP a. s. The company secured the stability of the building as well as carrying out all the restoration and craft related work. One of the most essential tasks were installing a two-tier drainage system to lower the level of dampness. Renovation of the roof support and of the actual roof was carried out under the supervision of the Heritage Institute staff. New toilets for visitors were built in the corridor.
Restoration work concerned chiefly the interior decorations and furnishings. The walls and the ceiling of the main hall and the ladies gallery were painted by rosettes, ceiling ovals and lunette shaped segments of the vaulting, all of which needed attention. The Hebrew inscription above the door portal, the bimah (an elevated platform from which the Torah is read), the pews, and the kijor (ritual washbasin) were all restored. The original aron ha-kodesh (a receptacle for the Torah) has not survived and was replaced by a replica based on available old photographs.
The intention was to complete the restoration by 2014 and the synagogue is afterward be used as a regional Jewish museum and for a variety of events such as concerts and special exhibitions.
GRAND OPENING OF THE SYNAGOGUE – 12. 6. 2014: