Kristiánov Glass-Making Museum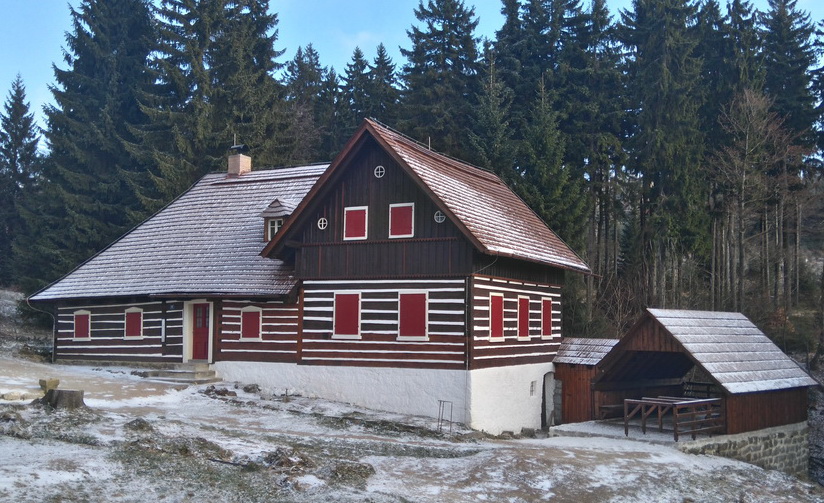 | | |
| --- | --- |
| Address: | Bedřichov are, Liberec Region |
| Description of work: | Restoration work |
| Investor: | Museum of Glass and jewellery in Jablonec upon Nisa |
| Contractor: | GEMA ART GROUP a.s. |
| Implementation: | 04/2016 – 09/2016 |
The subject of renovation and restoration works is the last standing building (a timber cottage) of the old glass-making settlement of Kristiánov, which now forms part of the collections of Museum of Glass and Jewellery in Jablonec nad Nisou.
Kristiánov was founded in 1774 by Johann Leopold Riedel, the progenitor of one of the most important glass-making families of Czech origin. Over three generations, the Redel family built a glass-making empire dominating the production of glass and costume jewellery in the area of Jizera Mountains, which used to count among the most important glass-making regions in the whole world. Until 1887, the heart of the settlement was the glass works supplied with wood from the foresters and raw materials delivered by coaches from the valley. In the beginning, Kristiánov produced chalices and cups made of hollow glass, mazers, pharmacy bottles, vials and chandelier trimmings. In the 19th century, local glass manufacturing moved to pressed glass rods, tubes and rods for the pressing of jewellery beads.
Only this single timber structure was preserved to the present day. It originally served as a lodging house for glassmakers and, later, as a tavern and recreational facility called Liščí bouda (Fox Cabin). The works aim to restore the structure's historical value and to improve the functional infrastructure for visitors and guides. All parts of the structure will be restored, from the stone basement, to the timber upper structure, to the roof, which will be covered with traditional wooden shingles. New sanitation facilities will be added (including electricity, water and sewage) together with a basic refreshment bar for the visitors, who have to walk or ride a bike for at least 3 to 5 kilometres to reach the place. The roofed terrace will provide a shelter from the elements and a resting place with a view of the surrounding countryside for visitors enjoying their refreshments.
The Museum's displays in the building will be slightly modified and an interactive exhibition display will be opened in the attic, which was not previously accessible to the public. The displays will provide a detailed overview of the history of the now long-abandoned glass-making settlement.
Kristiánov – our work in the media
Construction of the Year 2017 in the Liberec Region.
"Doc. Ing. Arch. Hubáček's Award in the category of reconstructions of buildings, heritage sites and brownfields" – HERE

The jury in the "Herbol Historic" competition for the best façade of 2016 using Herbol colours declared the façade of the Glassmaking Museum in Kristiánov as the 3rd best.