Reconstruction of the castle walls of the Imperial Palace, Cheb Castle, Cheb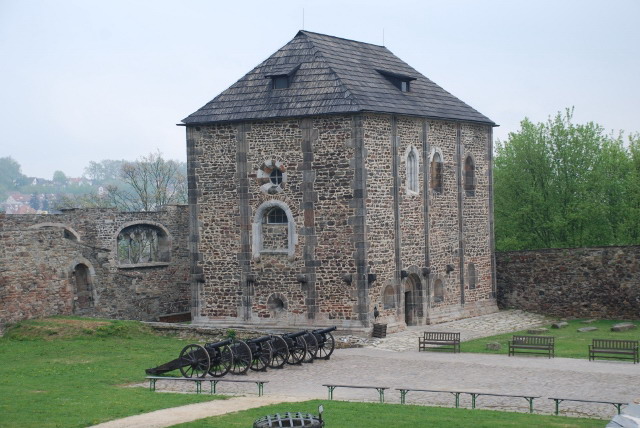 | | |
| --- | --- |
| Address: | Hrad Cheb, Dobrovského 21, Cheb, 350 01 |
| Description of work: | Pointing the quarry-stone walls, Static securing of the castle walls of the palace, Restoration repair of the walls |
| Investor: | City of Cheb |
| Contractor: | GEMA ART GROUP a.s. |
| Implementation: | 2011 – 2017 |
The first mention of Cheb Castle dates back to the beginning of the 12th century. The history of the castle was often connected with the Štauf family, which produced a number of Roman-German kings and emperors. One of them was Friedrich Barbarossa, who had the original building converted into an imperial palace at the end of the 12th century. The outer defence ramparts with the Black Tower, two-floor Romanesque-Gothic chapel of St. Erhart and Ursula and the ruins of the palace have been preserved to the present day. In the 17th century the castle was rebuild as a Baroque fortress, but was it later abandoned and gradually fell into ruin. Today it is part of the Cheb protected heritage zone.
The castle walls were mostly built from stone and fired bricks were used only for minor modern repairs. The wall is part of the unroofed castle palace. Restoration work has been continuously in progress on the north wall of the castle palace since 2011, when the first serious damage appeared in the castle walls. Repairs were initially performed on the outer parts of the walls, especially pointing work and securing the stability of the castle walls. Following geodetic measurements and drawing up plans for repairs, the actual remedial work began. It was necessary to create proper foundations for the collapsed stone walls and to build a new part. In addition to wall construction work, anchors were fitted into selected chinks to strengthen the adhesion between the retaining wall and the foundation. The stone walls were pointed with material whose composition was based on a study of the authentic original building mortars. For this purpose, natural hydraulic lime from the Otterbein lime kiln was mixed with local sands. The work included cooperation in a project for drainage of the inside parts of the castle. The drainage project was related to installing drainage along the outer parts of the castle walls and subsequent draining of precipitation water outside of the site. Gema Art Group a.s. performed core drilling through the walls for subsequent drainage and a stone spout was fitted through the outer side of the wall.
We have completed masonry reconstruction of the northern and north-eastern side of the Royal Palace. Of note are mainly the restoration works performed on the Romanesque grouped windows where especially the window tracery and columns were successfully and expertly restored. The outer window parapets were reconstructed with massive marble slabs. The inner parapets are made of slate slabs attached to the original preserved slabs.