State Castle Krásný Dvůr – Renovation of external staircases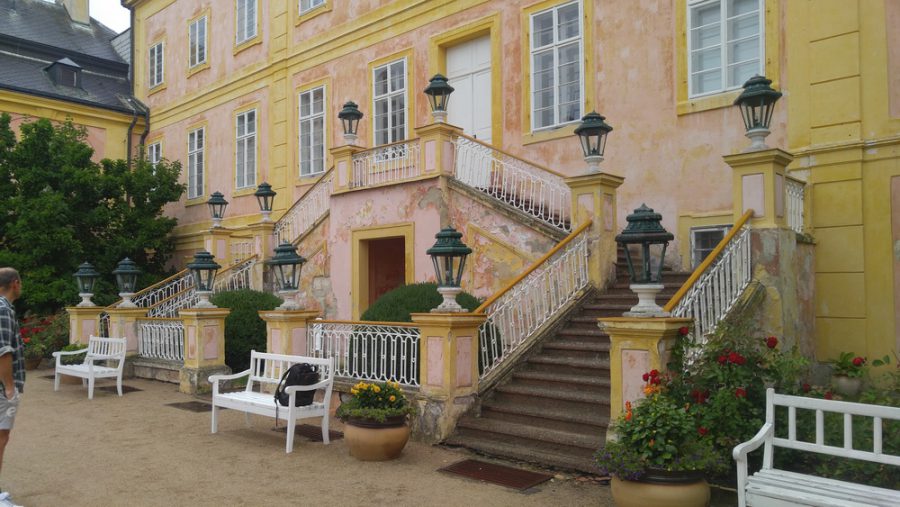 | | |
| --- | --- |
| Address: | State Castle Krásný Dvůr, parc. num. 211 and 212, č.p. 1 |
| Description of work: | Renovation, construction and restoration |
| Investor: | National Heritage Institute – Central Office in Prague |
| Contractor: | GEMA ART GROUP a.s. |
| Implementation: | 08/2017 – 09/2018 |
Based on the award of the National Heritage Institute the GEMA carries out the renovation of the existing two staircases in the State Chateau Krásný Dvůr (Beautiful Courtyard). The external staircases, which are the subject of the contract, are linking the Castle first and second floor.
The renovation of the staircases requires gradual removal of all existing elements — stone treads, thresholds, lanterns and railings. All of the works are carried out under the restoration regime, gently and with marking of all dismantled pieces for further reassembling. The undertaken work, running under the restoration supervision, requires the implementation of protection structures, enclosures and fences also.
The staircase structure is newly bedded by a new base and treated with an anticorrosive insulation under the existing structures. The final color and surface treatment of the Castle staircases will be designed according to the Restoration survey, under the approval of the responsible representative of the National Heritage Institute and the project architect. The lanterns will be restored.