Jewish
Synagogue

, Mikulov near Břeclav, Czech Republic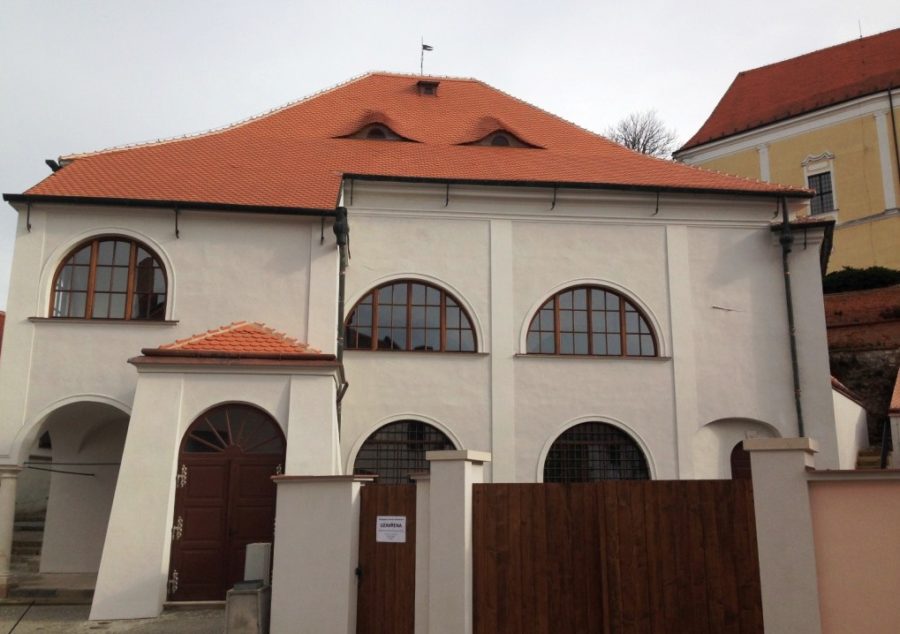 Address:
Židovská

synagoga

, Husova ulice 1523/13, 692 01 Mikulov
Description of work:
Restoration work
Investor:
10 stars – Revitalization of Jewish monuments in the Czech Republic
Contractor:
GEMA ART GROUP a. s.
Implementation:
2011-2014
The town of Mikulov was from the 16th until the 19th century one of the most important centres of the Jewish community of Moravia, as witnessed by several preserved houses in the former Jewish Quarter. The so-called Horní (Upper) Synagogue was built in 1550 in the Renaissance style at the foot of the Castle Hill.
It was often altered during subsequent years and then significantly rebuilt during 1688 and 1689 after it suffered fire damage. The winter prayer room was added at that time. Further repairs followed in 1723, when four cupolas modelled on the synagogue in the Polish Lvov were also constructed. At the beginning of the 19th century the synagogue was given an Empire style makeover. It continued to function until 1938, when it was taken over by the German Army and had its interior destroyed as it was converted into a warehouse. The monument continued to deteriorate until the 1970s, when its reconstruction was decided on. It commenced in 1978 and lasted till 1989. From 1995 the building has housed a permanent exhibition about the local Jewish population. The Upper synagogue in Mikulov ranks as one of the most prominent Jewish monuments in the Czech Republic. It has a unique architectural structure and is the only surviving synagogue of the so-called Polish, or Eastern type in the republic.
Reconstruction of the synagogue is being carried out within the framework of the "Revitalization of Jewish Monuments" project and GEMA ART GROUP a. s. is the exclusive supplier of all restoration and building work. Demolition and clearance work are part of the remit in order to remove ill-conceived past alterations. The Baroque roof structure will be strengthened and the non-original roof covering will be entirely replaced. Restoration will include reconstruction of the original interior decorating, conservation of the Tuscan type stone pillar and removal of secondary alterations and restoration of the bimah (an elevated platform within the synagogue). The Jewish aron ha-kodesh was removed during 1980s and will be replaced by a replica.
The premises of the Upper Synagogue will continue to be used for cultural events, concerts and lectures. A new permanent exhibition called "Rabbi Löw and Jewish Learning in Moravia" will also be opened to visitors.
OPENING OF SYNAGOGUE – 27. 6. 2014: