Partial restoration and construction works of the Strahov Monastery, Prague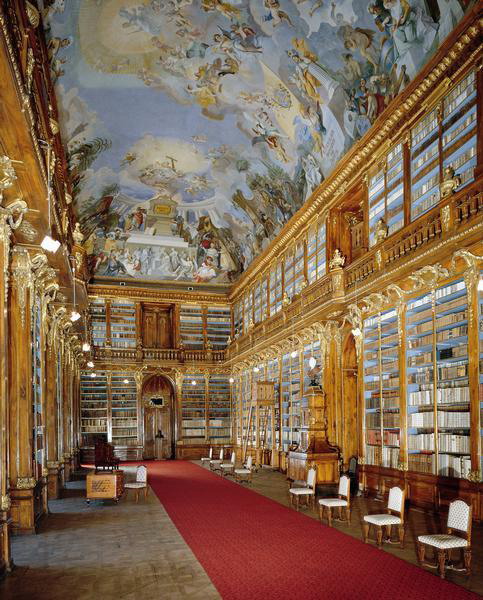 | | |
| --- | --- |
| Address: | Strahovský klášter č.p. 132, Praha 1 |
| Description of work: | Restaurátorské práce, stavební práce |
| Investor: | Královská kanonie premonstrátů na Strahově |
| Contractor: | GEMA ART GROUP a.s. |
| Implementation: | 04/2018-03/2021 |
The Monastery of the Premonstratensian Order at Strahov in Prague has a history reaching back to the 12th century and is a listed National Cultural Monument of the Czech Republic. The monastery was founded during the reign of King Vladislav II on the impetus of the Bishop of Olomouc Jindřich Zdík.
During its existence, the building underwent a number of reconstructions. The first intervention is associated with a large fire, which hit the monastery in 1258. Another devastation occurred during the Hussite wars, when the building was ransacked in 1420 by Calismen. Extensive reconstructions were made in the first half of the 17th century. After the reconstruction in 1626, the remains of the founder of the Premonstratensian order of St. Norbert. Another blow was struck by Swedish troops, which at the end of the Thirty Years' War (1648) damaged the building. The Swedes took away a number of valuables, including the precious library collection of the Strahov Monastery.
Between 1671 and 1674 there was a Baroque reconstruction led by the architect Giovanni Domenico Orsi. Significant interventions then took place in 1742, when the facades were restored. The reconstruction was led by architect Anselmo Lurago.
One of the most spectacular premises of the monastery complex is undoubtedly the Strahov Library, which contains two hundred thousand volumes. The library was created from two halls: the smaller Theological and the larger Philosophical. The theological hall built during the period of Orsi's reconstruction bears frescoes by Siard Nosecky from 1721 – 1727. In particular, there are volumes with various editions of the Bible. Complete repairs of the hall were carried out in 1994.
In addition to the unique bibliotheque, the monastery also includes a large picture gallery founded in the 18th century, which existed until the abolition of the monasteries by the Communist set in 1950. After the Velvet Revolution, the picture gallery of the Strahov Monastery was restored. At present, the library and the picture gallery are open to the public.
GEMA ART GROUP a.s. has participated in the restoration of other objects of the Strahov Monastery already in the past years, namely the repairs of the Philosophical Hall (more about the project here) and also the library of the Strahov Monastery.
Zdroj:
ŠIDLOVSKÝ, Evermod Gejza. Brána vědění. Filosofický sál Strahovské knihovny, Praha: Gema Art, 2010. 100s.
VLČEK, Pavel a kol. Encyklopedie českých klášterů. Praha: Libri,1997. 782 s.