The Pilgrimage Church of the Virgin Mary, Horní Police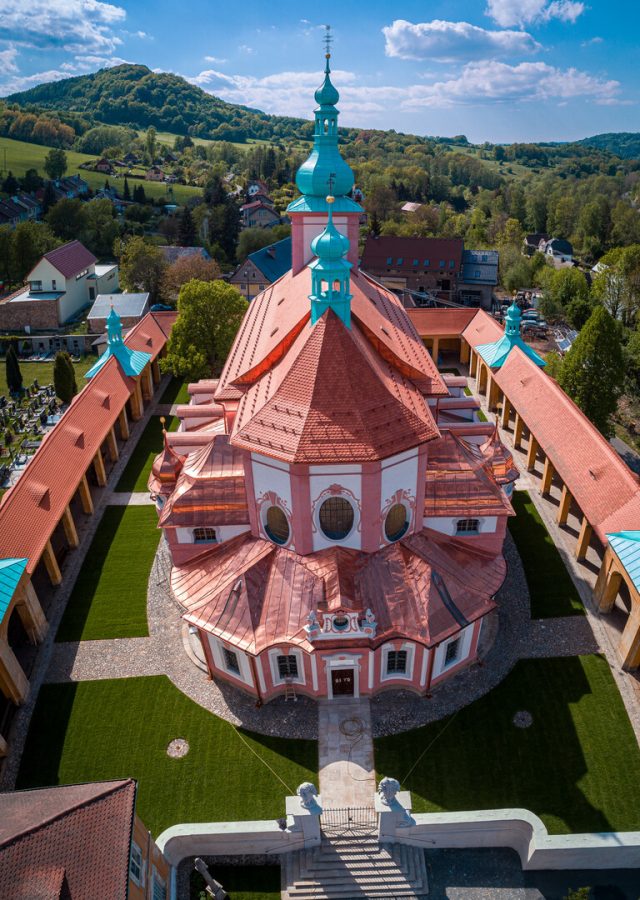 Address:
Křižíkova 49, Horní Police
Description of work:
Restoration work

Craft work

Investor:
Roman Catholic parish – Archdeaconship in Horní Police
Contractor:
GEMA ART GROUP a.s.
Implementation:
03/2018 – 04/2020
An important Marian pilgrimage area was built between 1684-1723 on the request of Duke Julius Francis. The Baroque building, located in the Liberec Region in the Czech Republic, includes a church, a belfry, an archdeaconry, a cemetery and a three-armed cloister with chapels.
There is a statuette of "mater gravida" or "the Virgin Mary" in one of the chapels. Legend has it that the inhabitants of Horní Police found a wooden statue of the Virgin Mary in the Ploučnice River in the 16th century which they then carried to the original church.
Restoration works under the auspices of GEMA ART GROUP a.s. experts include restoration of historical church furniture, murals and items for museum exhibitions. We also work on furnishing museum expositions, restoring the roof, floor, plumbing, joinery and locksmith elements and other measures against moisture.
Work will be completed by April 2020.
See the documentary about the chapel restoration. (Source: ŘKF Archdeaconry Horní Police)